Dear valued Clients and Friends:
Thank you so much for your continued kind remarks regarding our "The Rug of the Month" messages. With great pleasure, we present to you our new "The Rug of the Month" for September.

ARMENIAN KUBA RUG
3'6" X 4'11"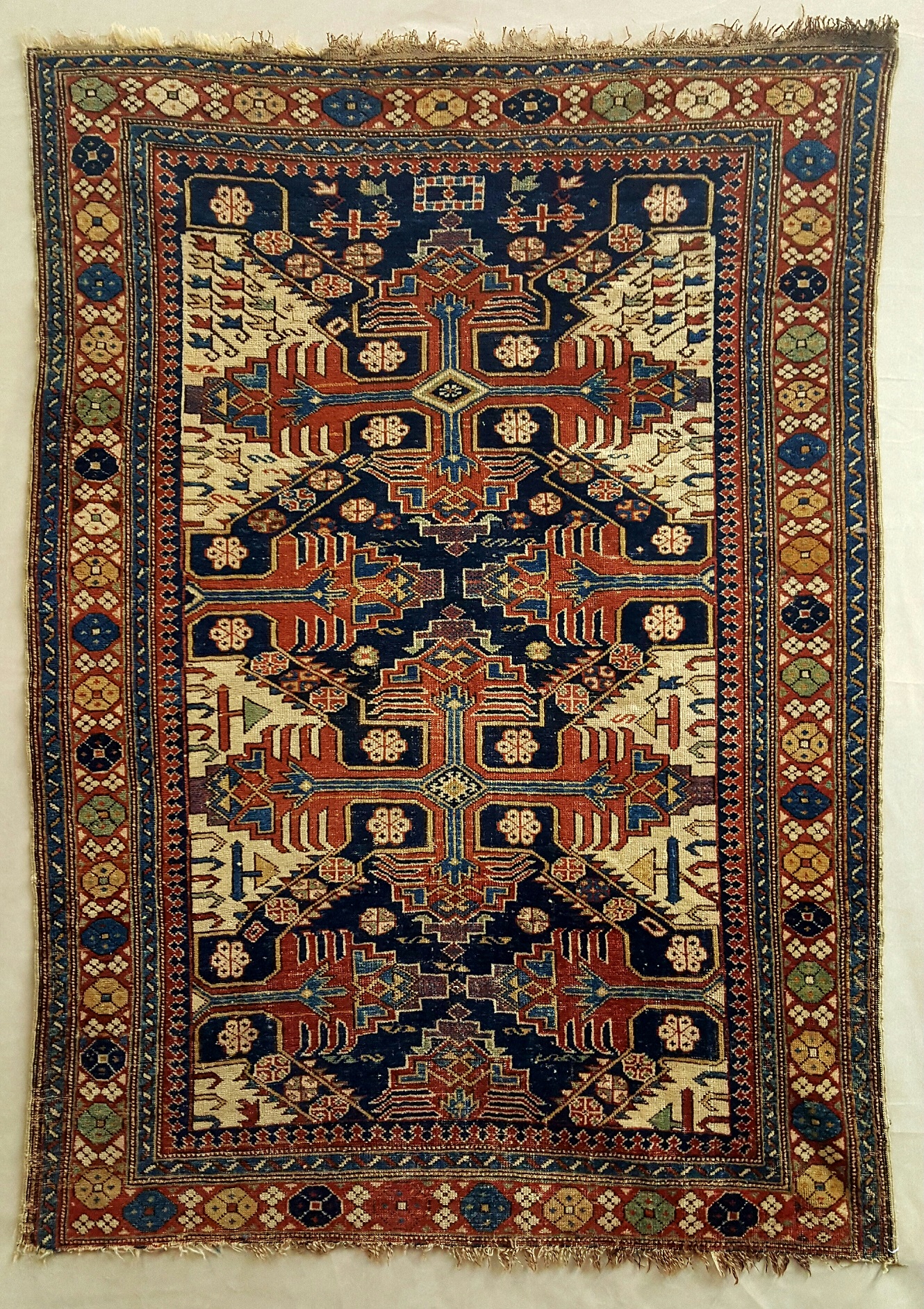 This is a rare antique Armenian Kuba rug from the region of Kuba, in the southeastern Caucasus, circa 1880s.
During the time when this rug was woven, the Armenian rug weavers and merchants, who lived in the vast area extending from the heartland of Anatolia to the shores of the Caspian Sea, had significantly contributed to the creation of magnificent rugs and their distribution to Europe and the United States. This explains why we encounter exquisite "Armenian rugs" woven in different regions and cities under such names as Anatolian, Kayseri, Konya, Sivas, Caucasian, Kazak, Karabagh, Shirvan, Kabistan, Kuba, and Daghistan. In addition to the superior quality of the wool and workmanship, the major distinguishing characteristics of Armenian rugs are the uniqueness and artistic execution of the designs. Although the patterns and motifs may seem familiar to rug connoisseurs, but their execution and composition, as well as the overall enchanting effects of those works of art are uniquely "Armenian." This Armenian Kuba rug is an superb example of all that. The cochineal-red medallions on the indigo-blue main field evoke the feeling that they were inspired by the designs of Eagle, Dragon, or Starburst Kazaks; closer examination reveals that a cross is placed in the center of each medallion. Also, the rosettes, palmettes, trefoils, and latch hooks are common in Caucasian and Persian rugs; but their combination and placements along with the color scheme reflect the "Armenian artistic taste."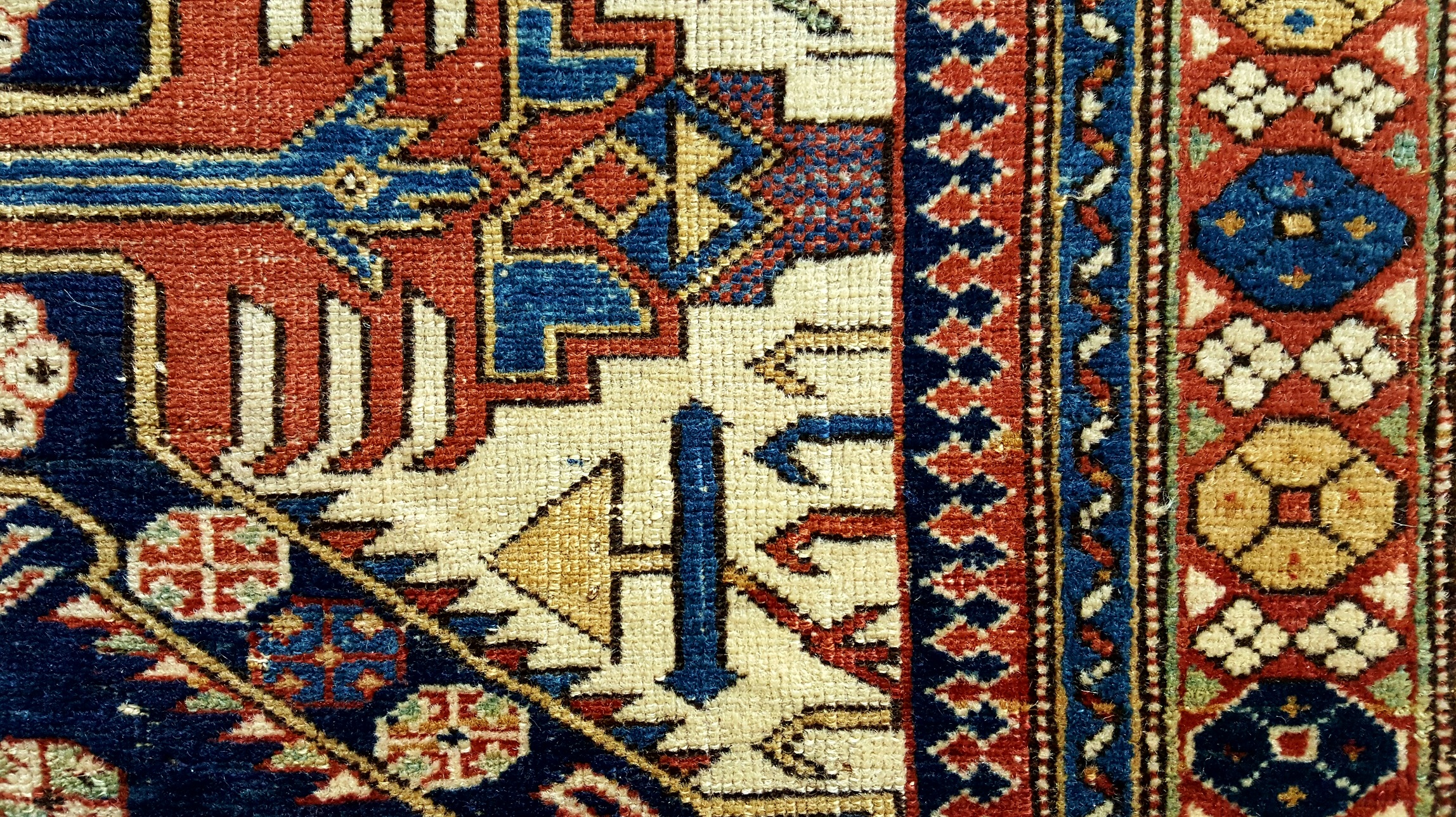 The ubiquitous use of natural undyed wool, especially on the main ground enliven the rest of the colors, which consist of red, blue, gold, light blue, and green. The primary red border is decorated with alternating one large and two small ivory rosettes. The large octagon-shaped repeated rosettes are woven in solid colors, all of which are used in the main field.
The inner and outer blue secondary borders are decorated with a continuously undulating vine pattern. The dog's-tooth pattern reciprocating in red and blue surrounds the main field and symbolizes that this is also a garden-design, which is protected by a fence.
The uniqueness and artistic execution of the designs, the age, the rarity, and the condition of this magnificent rug make it a highly desirable work of art for sophisticated collectors and prestigious firms.
For more information about this exquisite rug, as well as for our ultimate expert service in hand cleaning and repair of your rugs, please contact Hayko by calling at 212-219-8257; (also 24-hour answering service at 212-717-5400); or by E-mail: info@hayko.com.

Sincerely,

Hayko